Devonport Naval Base - Devonport Community Support
The Naval Community Organisation (NCO) is committed to providing services, support, advice and information to all of our service personnel, families and civilian staff bringing our Naval community together.

Navy Community Centre
Social & family Support
Two social workers and a family support worker are located in the NCO. For more information and bookings please refer here.
Posting support
Reach out to the NCO for help and support during your posting, phone 0800 Navy Help for more information. For resources to help manage deployment refer to managing time apart.
Pregnancy & parenting support
The NCO can provide support to new mothers through the Family Support Worker. Phone 0800 Navy Help for more information.
Childcare
The Naval Community Childcare Centres Association is an incorporated society which runs Early Childhood Centres for the benefit of Naval Families. There are two centres - Tamariki House and Calliope House.
Tamariki House: The Centre is available to 25 children aged from 6 months to 2 years old. Meals are provided. Care is available on a full time basis. All the staff are qualified or in training for a Diploma of Teaching (ECE). Fees on request.
| | |
| --- | --- |
| Hours | 7:30 a.m. to 4:30 p.m. Monday to Friday |
| Phone | 09 445 2484. |
| Location | 59 Calliope Road, Devonport |

Calliope House. The Centre is available to 50 children aged from 2 years to 5 years old. Meals are provided. Care is available either on a full time, full day, morning or afternoon basis with a full educational programme conducted by staff qualified or in training for a Diploma of Teaching (ECE). Fees on request.
| | |
| --- | --- |
| Hours | 7 a.m. to 5 p.m. Monday - Friday |
| Phone | 09 445 2608 |
| Location | 65 Calliope Road, Devonport |
Library
Membership to the Base Library is obtained by being either Regular Force, active RNZNVR, Civil Staff, or a Dependant with an RNZN Dependant Pass (Serving personnel are responsible for the replacement cost of any lost or damaged books borrowed with this pass). The library contains an up-to-date collection of periodicals, fiction, non-fiction and reference books that can be issued to members for three weeks. Other services provided by the Base Library are work-related interloans, reader's advice, internet terminals and book reservations.
Note. NZDF library accessed through internal DXIS link only
E-Books
The Defence Shared Services Group E-books library is available to NZDF personnel and their families. It covers fiction, biographies, wellness, health, personal development, finance and much more. E-books and audio books for adults, teens and children.
To register, the NZDF family member should email dssg.ebooks@nzdf.mil.nz. You will receive a response with information on how to access the E-book library.
Once registered the whānau you nominate will also have access.
Navy Hire Pool through DSSG
Navy Amenities is a hire centre operated on behalf of the Base Welfare Fund, under the Chairmanship of the XO, HMNZS PHILOMEL. All profits are returned to the Base Welfare Fund for the benefit of Navy personnel. A range of equipment is available for hire to all Regular Force RNZN including Reserve Force personnel on full time contract and Devonport based Army/Air and NZDF Civilian employees.
| | |
| --- | --- |
| Hours | 8 a.m. - 3 p.m. Monday - Friday (Return time 9am) |
| Email | navyamenities@nzdf.mil.nz |
| Phone | 09 304 4453 or 09 304 4450 |
| Location | Rear of Naval Supply Depot, North Yard |

Payment: EFTPOS (no credit) at the amenities Office

Booking Procedures
Bookings must be confirmed by payment prior to the uplift of equipment. Arrangements for out of hours uplift/return will be provided at time of payment. The daily hire period is from 9am the day of hire to 9am the day of return. Alternative times can be arranged upon request. All Corporate Cards are to be returned by 8.30am. Items are to be returned in clean and tidy condition and refuelled (where applicable).
Cancellations - 24 hours cancellation notice is required so that your booking can be re-assigned to other personnel. Cancellations should be made by phone or email. If you do not cancel and you fail to pick up the equipment, you will be charged for the hire.
Navy Holiday Accommodation through DSSG
Check out our wonderful holiday facilities at Defence Force Leave Centres. The holiday homes are modern and spacious three bedroom homes accommodating up to eight people at a very reasonable tariff. They are located in the North Island's top tourist destinations of Taupo and Mount Maunganui. You can check availability or book a motel on the ILP or email.
RNZN Homeport app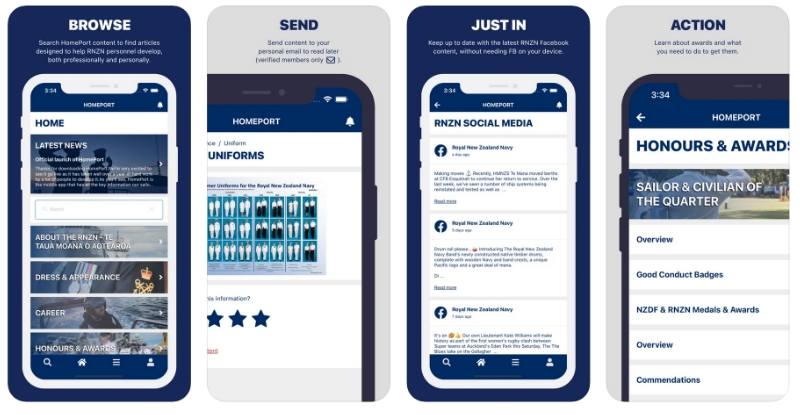 Check out the new Naval app. Everything you need to know about your Navy. Information on our Fleet, uniform, career management, honours and awards, personal admin, support services, Navy Facebook and a whole lot more.