Burnham Military Camp - Burnham Gymnasium
Burnham Gymnasium and its staff support physical training for all service personnel within camp. The facility is open for all military and civilian employees, including their family.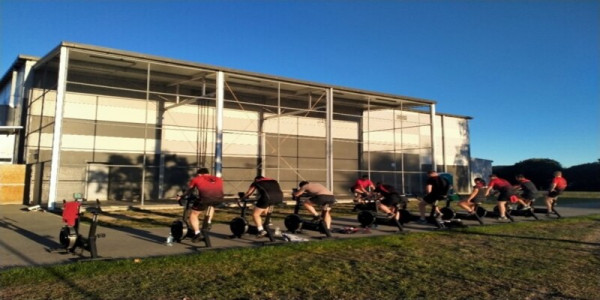 Gym Information
Burnham Gymnasium
The Gymnasium opened in 2009, and provides training facilities to cater to Burnham camp's sporting and training needs.
It has a full-sized basketball court, netball court, three volleyball courts, two badminton courts, and a futsal/handball court. There are designated training zones - a cardio 'cave' with bikes, rowers and treadmills; a weights room; a mezzanine area with various equipment; and a rehab space. Outside the gymnasium are pull up and dip bars, and a semi-covered training space with ropes.
Physical Training Instructors (PTIs) and qualified Exercise Rehabilitation Instructors (ERIs) work from the Burnham Gymnasium and Rehabilitation Centre. They have an array of skills to help individuals and groups with their physical health and wellbeing in various environments on land and at sea.
Group fitness classes
A variety of classes are held throughout the week. Classes vary from week-to-week and formal training takes precedence for facility use.
Camp PT (PT@11) is run at 1100 on Tueadays and Thursdays - the dress is "fruit salad" PT kit.
Camp yoga is run ev ery Tuesday and Friday at 1200.
For more information about bookings, contact the gymnasium staff.
Individual training programmes
Individualised programmes can be provided by a PTI to help you achieve your specific training goals; whether you want to improve your general fitness, a specific training component such as strength or endurance, or have a targeted event in mind.
Exercise rehabilitation
If you're injured, the Exercise Rehabilitation Instructor (ERI) will work with you in conjunction with the Physiotherapist to ensure you can get back to training as quickly as possible. Patients will be given time and support to rehabilitate their injury back to full fitness, as well as maintaining overall fitness where possible.
Recreational training and sports
A variety of sports tournaments are conducted throughout the year, as well as periodic recreational events.
Strength and conditioning
The Gymnasium provides the equipment and resources to train for your specific goals. PTIs can provide guidance on training advice and technique, when needed.
Injury management and prevention
At times, you may have an injury due to the nature of sports or military training. PTIs can provide advice around injury prevention or concerns you may have, or direct you to the Physiotherapist for treatment and management.
Classes
Unit classes are run each day. Burnham gymnasium also provides classes for the community and camp wide personnel including lunchtime circuits and yoga. Contact the PTI staff for more information about these as they change regularly.
Fitness testing
PTIs have a hard copy of the testing sheets at the Burnham gym where you can register for testing.
RFL
Every Wednesday, test starts at 1000
Unlimited spaces
Walk test
Every Wednesday, test starts at 1030
LCFT
Every Wednesday, test starts at 1030
Dress:MTP shirt/UBA shirt, pant, boots/Alt footweear.Webbing must be worn over the provided vestPT rugby shirt not allowed. 5.11's not allowed20 spaces maxWeapons providedVest provided
BWST
On command
BWST cannot be run at the Burnham pool. It mus be run at the Selwyn Aquatic Centre. Contact your unit PTI to organise.
OFT
First Wednesday of every month, test starts at 1030
Contact PTIs beforehand
Navy test
First Wednesday of every month
Contact PTIs beforehand
All other tests
Contact PTIs
Run routes
Burnham Military Camp is surrounded by flat roads that allow for many different run routes. It's also close to the Port Hills if you're after hillier tracks for walking, running and mountain biking.
5 Burnham Run Routes - Ranging from 3.4km - 9.5km
4 Burnham Run Routes - Ranging from 5.5km - 10.6km
Swimming pool
For more information on the Burnham swimming pool.