Using this website
Te whakamahi i tēnei ipurangi
Introducing Defence Health Hub
This website is your one-stop shop for Health. You'll find resources for all members of the NZDF community - military, civilians, whānau and retired members. Learn about the foundations for maintaining your overall health (spanning physical, mental, social/ whānau, spiritual and work health domains), common health challenges and how to recognise these, and tips for self-management in the Your Health section.
There's a range of self-assessment tools and guidelines for action planning and helping others in the Take Action section, along with information about what happens when you ask for help. If you need immediate help go to Get Help Now or find out about the internal and external services and support available in the Your Service Providers section. You can find information about local services in the Location Finder.
If you are looking for information about a particular topic, visit the Tools and Resources section or use the Search function.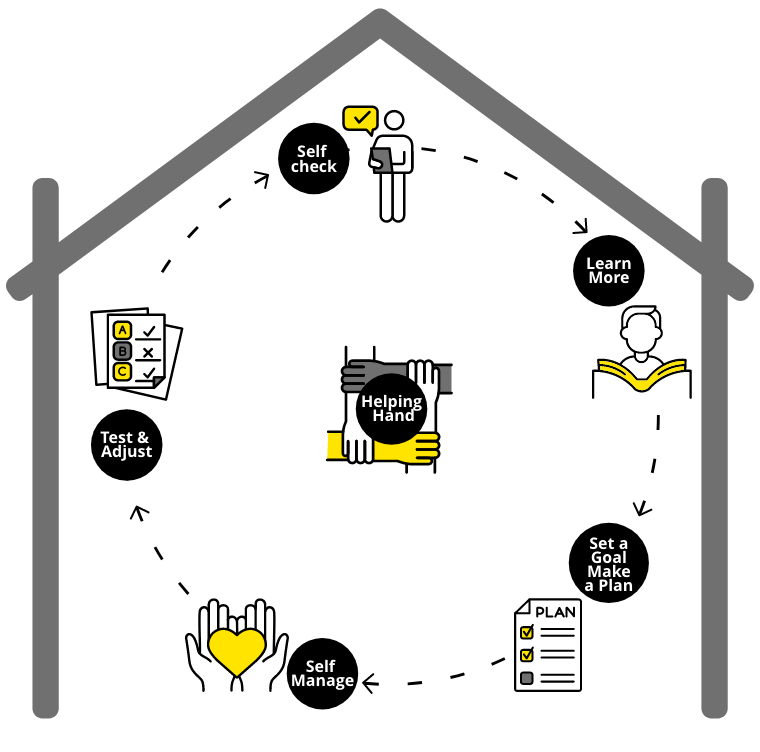 You may have a clear idea of areas where you want to make change, or you may be unsure.
Building your awareness in the Your Health section will help you decide the areas you want to focus on. It may be helpful to learn more about your health using the self-assessment tools in this section. Or you may have some goals in mind and it's time to come up with a plan of action. This plan may involve you making some changes in your life using a range of self-help tools, and/or reaching out for reinforcements.
Sometimes it is hard to know where to start, or how to make changes stick; the guidelines for making and sustaining change will help you to stay on track, or maybe you want to help someone else. You'll find an introduction about each area below and more information in the Taking Action and Getting Help sections.
Self-Checks
You may know exactly where you want to take action but it may be useful to complete some of the self-checks you can find here. You can come back and do these again over time to check how you're tracking. The checks are anonymous and this site does not capture personal information about you.
Setting goals and action planning
Sometimes, even though we know where we want to make change in our lives, coming up with a plan for getting there and sticking to it can be hard.
If you have identified an area you want to focus on there are a range of tools that can help you.
You can read more about specific tips for improving health to incorporate into your action plan in the topics in the Your Health section.
Check out the guidelines for Setting goals and Action planning, and making and sustaining change. Learn from others about their journeys in changing their health.
Self-help
Practicing healthy habits and focusing on self-care help is an important part of recovery for anyone who has concerns about their health and wellbeing. Most of us will through difficult times at some stages in our lives and all of us will likely identify some areas of our health we want to improve. The Self-Management Tools section has a range of tips and simple strategies that can go a long way to help you navigate the things that life can throw at us and stay at the top of your game.
A list of recommended websites, mobile apps and additional support contacts can be found here.
Helping hand
Sometimes we need a helping hand, but it can be hard to reach out to others. Common concerns include worrying about what might happen, potential career impacts of seeking NZDF support, feeling embarrassed, or not wanting to burden others.
If you are not sure about reaching out for professional support, mates and family (or someone else you trust) are often a good first step. They will know you well and may notice things you haven't so are a good place to bounce things around and support you to take some next steps to recovery.
Sometimes it is hard to reach out, but the fact is,most of us will go through tough times at some stage and if roles were reversed, you'd be there for your mates and family, right?
You can learn more about what services health professionals provide and what happens when you ask for help in the Do I need Professional Help? and What happens when I ask for help sections. You can also learn about others experiences in reaching out for help.
A list of internal NZDF providers can be found in the Your Providers section.
A list of additional support services can be found in the Get Help Now section.
Helping Others
If you are concerned about someone else you can learn more about Helping others here.
Test and adjust
Once you have put some plans into place and tried some actions it is important to check in with how you are going. Are you noticing positive changes? Do you need to review or adjust your approach? Do you need a helping hand? See the test and adjust section for more information.