Woodbourne Air Force Base - Woodbourne Community Support
Community support is available to you in Woodbourne, connecting you and your whānau with base and local services and events.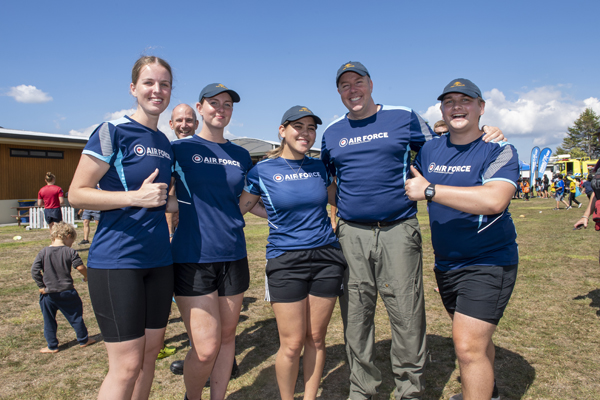 Defence Community Facilitator (DCF)
With Woodbourne being a training base, the goal is to ensure support is at hand for military and civilian personnel - particularly those separated from their families and friends. The community support offered is varied and flexible to meet the needs of all Woodbourne based personnel and their families.
In addition to providing community information and confidential support, the Defence Community Facilitator's specific responsibilities include:
Facilitating a smooth transition into the local community for personnel posted to Woodbourne, by offering support and information on RNZAF and local community support services including support networks, transport, activities, childcare, schools/pre-schools, housing etc;
Running community tours for new personnel and making home visits as appropriate;
Supporting personnel/families with personal or work issues so they are able to continue to function effectively;
Referring personnel and families to relevant base specialists or outside agencies as required;
Working with the Base Support Team to identify base welfare issues and develop strategies to address them;
Organising welfare activities/projects and involving families of personnel;
Providing community liaisons for sports, health, education, welfare and other community services;
Providing support networks for such things as parent groups, childcare facilities, school holiday programmes, aged care, special needs etc;
Providing an advocacy service to assist with dealing with government agencies like Work and Income New Zealand and Inland Revenue, as well as credit providers, banks, schools etc;
Sending care packages to deployed personnel and participating in deployment briefings;
Maintaining contact with the next-of-kin of deployed personnel, alongside their official Point of Contact and organising the associated meetings and activities;
Maintaining contact with personnel on parental leave, extended sick leave, overseas postings, Leave Without Pay etc; and
Co-ordinating community newsletters and contributing to the Base Information Booklet, Air Force News, the Bulletin and the Bugle as appropriate.

Useful Community information
Woodbourne Bulletin - A Base Bulletin is published each Wednesday. It's posted on the Base Woodbourne Community facebook site and also emailed to service personnels' home email addresses upon request.
It advertises church notices, sporting notices, community notices, for sales etc. Notices and advertise­ments can be placed in the Bulletin by email by Thursday to the Base Coordinator.
Community Meet and Greet - The Community Meet and Greet is an opportunity for anyone to drop in for a cuppa and meet other people.
Due to people's busy lives, it is currently part of our Playgroup morning in the Woodbourne Community Centre on Mondays and Wednesdays between 10am - 12pm, except during school holidays. All are welcome, morning tea provided. Contact DCF.
Need-A-Hand List - A list of individuals available to provide services such as babysitting, lawn mowing, gardening etc will be published in the Base Bulletin regularly. This list can be amended, or added to, by contacting DCF.
Community Groups
All groups are private pages - if you want to be a member of a group, make a request on Facebook or email the DCF.
Base Woodbourne Community Page is the official base community Facebook page where you can connect with others, ask for general support, or share information, announcement of events, etc. The Base Bulletin is pinned on this site every week.
Base Woodbourne Dependent's Page is an unofficial Facebook page for all family members ("dependents"). This is a good page to link in to get in touch, make yourself known, get information, make social announcements (e.g. if you want to invite people for a cuppa, looking for people to go to the movies with, etc).
Woodbourne Playgroup is the Playgroup Facebook page for if you want to get in touch, see Playgroup events and other announcements.
DCF Woodbourne is the Facebook page for the Defence Community Facilitator for Woodbourne if you want to send a private message anything.

Childcare & parental support
There are numerous kindys and daycare centres across the Marlborough Region. Please contact the Woodbourne
DCF
for the list.
Plunket Nurse - Whānau Āwhina Clinic in Marlborough
| | |
| --- | --- |
| Hours | 9 a.m. – 3 p.m. Mon, Wed & Fri |
| Phone | 03 578 5633 |
| Location | 16 Henry Street, Blenheim |
Woodbourne Playgroup
The Playgroup has a number of indoor and outdoor toys, art and craft activities, puzzles and books, free play, and organised activities including day trips.
| | |
| --- | --- |
| Hours | 9:30 a.m. - 11:30 a.m. Mon & Wed (excluding school holidays) |
| Phone | DCF or Rachel Schuurman 021 059 9820 |
| Location | Woodbourne Community Centre |
Woodbourne Out of School Care and Recreation (WOSCAR)
The programme provides after school and holiday care for children ages 5-13 years incl. WOSCAR is also Oranga Tamariki approved, which allows those eligible to apply for a WINZ subsidy toward the fees. A bus service is also provided to those schools not provided for by the Ministry of Education.

Before, after school, and holiday care is also available in Renwick or through programmes in town through Bread of Life OSCAR. All inquiries email or phone 03 578 1355.
Hours
2:45 p.m. – 5:30 p.m. Mon - Fri
(Holiday programmes 7:30 a.m. - 5:30 p.m. Mon-Fri)
Phone
Woodbourne Oscar or Oscar Coordinator
Location
Caldwell Road, Community Centre and RNZAF children have first priority
School bus services

Renwick School Bus (Deluxe Bus Company) - The Bus leaves from the Caldwell Road bus shelter for Renwick School at approx 8:10 a.m., and returns after school at approx 1:10 p.m..
Marlborough Colleges Bus (Ritchies Bus Company) - The bus leaves from the Caldwell Road bus shelter at 8:15 a.m. for the Girls' and Boys' Colleges. Children going to St Marys are also able to travel on this bus.

Community Toy Library
Woodbourne Playgroup offers a Toy Library free of charge out of the Community Centre. Please contact Rachel Schuurman to arrange hireage (021 059 9820).
The Salvation Army also offers a large toy library (small fees apply).
Recreational Library
| | |
| --- | --- |
| Hours | 7:45 a.m. - 4:30 p.m. Monday - Friday |
| Phone | 03 577 1187 |
| Location | GT building |
Woodbourne Community Centre
| | |
| --- | --- |
| Hours | 8 a.m. - 4:30 p.m. Monday - Friday |
| Email | |
| Phone | |
| Location | Caldwell Rd, in between the two sports fields off base |
Bookings
The Community Centre is free to use for Base Welfare Fund (more on this below) contributors, and their families, and can be booked for kids' birthday parties, farewells, workshops etc. To make a booking, or for more information, contact DCF.
Postal Services
A postal service (letters and parcels) is available at the Fernleaf Café. Mail is picked up daily from the café at 2:30 p.m.
Base Hairdresser
A family-friendly salon providing all services from perming and colouring to men's, women's and children's hair cuts and styles. Consultation free! We are located at Kingford Smith Ave, Woodbourne (next to the CRTS Parade Ground attached to the JR's Complex.
Other service include eye brow shaping & tinting and eye-lash tinting, cocktail parties, balls and weddings by appointment.
| | |
| --- | --- |
| Hours | Open by appointment only |
| Phone | 03 5771294 or ext 7294 |
| Location | Kingford Smith Ave, Woodbourne (attached to JR's Complex) |
| Booking | book online |

Base Welfare Fund Services
The Base Welfare Fund is a non-public fund which provides welfare and recreational services for base personnel and their families. Please email for information on all services. Personnel can also find the information on the Base Woodbourne welfare pages.
Base Welfare Fund (BWF) Hire Pool
A range of household, gardening and recreational equipment, such as window and carpet cleaners, trailers, vans, bouncy castle, hedge trimmer, weed eater, kai cooker, and much more can be hired at a low cost. Please email for more information. Personnel can also find the information on the Base Woodbourne welfare pages.
Base Woodbourne Holiday & Welfare Houses
Base Welfare Fund (BWF) Holiday Homes
The Base Welfare Fund owns holiday homes at St Arnaud (Lake Rotoiti), Hanmer Springs, and Broughton Bay. These houses are available for hire by members of the BWF. The principal aim of the BWF Holiday Homes is to provide holiday and recreation accommodation of a good standard, for members of the BWF, and their families, at a moderate cost. The facilities may be made available to other personnel also, in accordance with the rules.
Bookings - All bookings can now be made online (DXIS). Alternatively, call NPF on 03 577 1155.
Ballots will be held every school holiday period and Public Holiday Weekends. All ballots are drawn one month prior to the date of the ballot period, with the exception of the Christmas school holiday period, which is drawn on 1st September each year.
Bookings for non-ballot periods can be made up to six months in advance.
Base Woodbourne Welfare Houses
Available for all RNZAF Base Welfare Fund (BWF) contributors to use. An escape during an emergency situation (i.e. something is wrong with your house, or special family situations), but also providing an affordable alternative to motel accommodation in a location near to base. The BWF has two welfare houses at RNZAF Base Woodbourne and bookings can be made by email or phone 03 577 1154 (Ext 7154). Tariff for the Base Welfare Homes is $40 per night (linen supplied).
Eligibility policy - The houses are available to be booked by personnel who contribute to an RNZAF welfare fund, up to three months in advance.
Find Local Services
Please contact the DCF or visit the links below for a directory of local services available to you: