Papakura Military Camp - Papakura Gymnasium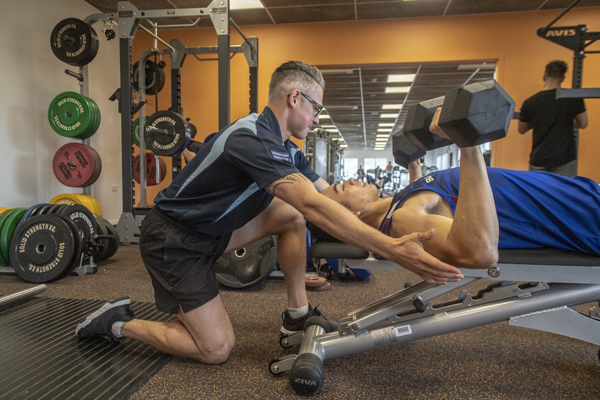 Papakura Gymnasium
Hours

Open: 24hrs/7days

Staff hours: 7:45 a.m. - 4:30 p.m. Mon-Fri

Phone
09 296 5739
The Papakura Gymnasium is an old auditorium that's been transformed into a gymnasium. It houses a basketball court with boxing bags and climbing ropes each side, cardio equipment and machine weights are available on the main stage, and a weights room with lifting platforms is attached at the side of the main gymnasium floor.
Physical Training Instructors (PTI) work from the Papakura Gymnasium. They have an array of skills to help individuals and groups with their physical health and wellbeing.
These are:
Group Fitness Classes
A variety of classes throughout the week. Classes vary from week-to-week and formal training takes priority of facilities. For more information about bookings, contact the Papakura Gym Staff.
Individual Training Programmes
Individualised programmes can be provided by a PTI to help you achieve your specific training goals, whether you want to improve your general fitness, are working on a specific training component such as strength or endurance, or have a targeted event in mind. These programmes are only available to military personnel.
Recreational Training and Sports
A variety of sports tournaments are conducted throughout the year, as well as periodic recreational events on base.
Strength and Conditioning
The Gymnasium provides the equipment and resources to train for your specific goals. PTIs can provide guidance on training advice and technique when needed.
Injury Management and Prevention
At times, you may have an injury due to the nature of sports or military training. PTIs can provide advice around injury prevention or concerns you may have, or direct you to the Physiotherapist for treatment and management.
Fitness Testing
Duty Fitness testing details below:
Wednesday 1000 RFL
Thursday 1000 LCFT
No requirement to register an individual, you can turn up 5-10 minutes prior and place your name on the sheet.
If you are not posted to Papakura, you must be booked in with security as a visitor to camp and produce Military ID. You can register your details for entry in to camp by sending an email to the PT Staff:
If you have a group that requires testing - please email the PT Staff above to register.
The Gym Staff schedule can change at a moment's notice, so if you are not posted to Papakura please check in with the PT Staff to ensure testing is still going ahead.
Any other fitness test will need to be booked in with the PT Staff - Swim test, BET, Walk test or MSFT.