Ohakea Air Force Base - Ohakea RNZAF Tūrangawaewae
The RNZAF Tūrangawaewae is about having a place where our past, present and future meet.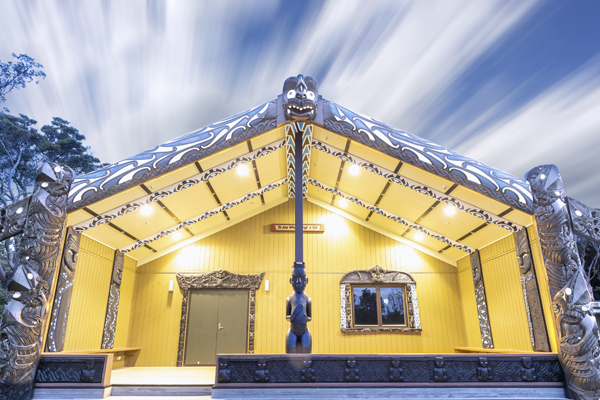 Contact details available on NZDF internal website.

The RNZAF Māori title is "Te Tauaarangi o Aotearoa". Taua warriors (war party); a-rangi - of the sky (of the realm of Ranginui sky father) and o Aotearoa - of New Zealand.
Your place to stand
The RNZAF Tūrangawaewae is about having a place where our past, present and future meet; where we may honour our past, celebrate or lament the present, and look to the future.
For our Air Force personnel and their families who may have never had a 'place to stand', this is their turangawaewae. Here unity is strengthened through a sense of belonging. It is a meeting place; a rallying point; a learning area; a place of rest and spiritual reflection. It is a place where we may celebrate, grieve, welcome and farewell. It is a memorial to our forebears and a beacon for those yet to come. It is the physical heart of our small tribe – the spiritual and social gathering place of Te Tauaarangi o Aotearoa, the Royal New Zealand Air Force.
Ko Taikorea te Maunga
Ko Rangitikei te Awa
Ko Pakapakatia te whenua
Ko Ohakea te Tūrangawaewae
Ko Te Tauaarangi o Aotearoa te Iwi
Taikorea is the Mountain
Rangitikei is the River
Pakapakatia is the land
Ohakea is the Standing Place
The RNZAF is my Iwi
The RNZAF Iwi Philosophy
Our Vision - An Air Force that embraces the 'Iwi' philosophy and recognises the unique bicultural opportunity that Aotearoa affords.
The RNZAF as an 'iwi' is distinguishable by its purpose, values, culture, history and even its language. It is made up of individuals, flights, squadrons and wings unified under our God, our Queen, our Chief, our flag, our crest and roundel.
We variously gather in our work places, sports clubs, hobby clubs, social clubs, crew rooms, chapels and messes. We serve the same goals, we rejoice in the same victories and we suffer the same adversities. We rely on each other. We laugh and we cry together. We parade together and we patrol together. In the defence of our nation and her security, we fight together, side by side as brothers and sisters in arms. Should we fall, we fall together.
We are Te Taua-a-rangi o Aotearoa, Warriors of the Sky. We are the Royal New Zealand Air Force and we are an Iwi in every sense of its meaning.
The RNZAF Tūrangawaewae is not just a M
ā
ori institution. Rather, it's a profound sense of recognition and respect for ourselves as an Iwi, unique and united in an exceptional task. It is the culmination of the desire for a single physical, spiritual and social rallying point most fitting and intensely unique to New Zealand.
We need a Tūrangawaewae
That we may rise tall in oratory
That we may weep for our dead
That we may pray to God
That we may have our feasts
That we may house our guests
That we may have our meetings
That we may have our weddings
That we may have our reunions
That we may sing
That we may dance
And then know the richness of life
And the proud heritage that is truly ours.
Tūrangiwaewae opening for RNZAF
Ko Te Tauaarangi - RNZAF Haka
Ko Te Tauaarangi haka belongs to ALL our Air Force Iwi - uniformed, civilian, men, women, M
ā
ori and non-M
ā
ori alike. It is the legacy of our forebears. It pays homage to those that came before us and is a beacon for those yet to follow. It differentiates us from all others and all other nations. Perform it with pride and treat it with respect.
He taonga tuku iho – it is a treasure passed down.
Ko Te Tauaarangi - RNZAF Haka
Leader
Torona kei waho!

All
Kei waho!

Ldr
Ko wai mātou?

All:
Ko te Tauaarangi o ngā hau e wha
i te rohe o Ranginui
Nā ngā tūpuna ngā pūtake i whakatakoto
Ko te Tauaarangi!
Kaua e wareware, hāpai te take
Hikina te mānuka!

Leader:
Me pēhea te whakatūtuki?

All:
Ka kōkiri ake ngā taituara painga o
Aotearoa i te ngāiotanga,
Te mana tangata me te ngātahi e
I a ha!
Whaia te hīranga!
Mā te arawhata ki ngā whetu!
Aue hī
**Aue ha!